Containerization is a technology which allows enterprises to run suspicious applications in a separate environment without affecting other processes. Designed to increase enterprise security, they also streamline enterprise IT operations.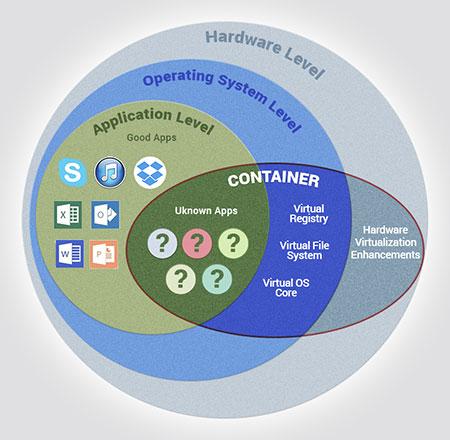 Comodo transforms security with containerization
Comodo is one step ahead in introducing the most advanced form of security products through the pioneering containerization technology.
The strategy of Containerization solution has been enforced on all Comodo security products. Internet Security suite and SecureBox are the outstanding security solutions from Comodo that has pulled up the significance of Containerization technology. Businesses can be run safe and secure even in the most vulnerable environment. We at Comodo have made the strategy of containerization highest in the rank to any other competing solution.
Comodo revolutionizes the security industry with SecureBox
SecureBox from Comodo is the new evolution for endpoint protection. It incorporates the use of containerization technology as the solution to secure applications and the data transaction involved in it, even in the most vulnerable environment.
Businesses that has to secure its third-party endpoints and are not under the control of their IT organization, requires Comodo SecureBox. Any organization, be it financial services or health insurance companies or healthcare units with huge supply chain where the supplier can be a medium of malware can use SecureBox to benefit the containerization technology.
Comodo Internet Security enhances security with Containerization
Comodo unleashed the latest version of Internet Security 8 software with an enhanced level of protection with an integration of containerization technology. This containerization system of security helps applications to be securely executed as it gets containerized in a separate environment. This is very much beneficial, when a user runs and executes any unauthorized program that is potentially vulnerable and hence prevents it from damaging the PC or restricting data access,
Comodo Internet Security 8 works on the advanced mechanism of containerization and offers a multi layered defensive mechanism developed with an integration of
Firewall
Antivirus
Auto-sandboxing of malicious threats
Secure Virtual space to isolate susceptible files
Combat threats with the technique of Containerization with Comodo SecureBox and Internet Security Suite